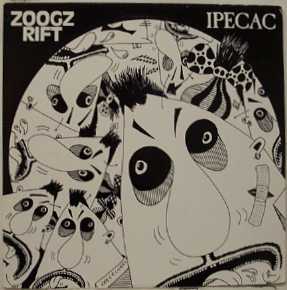 Start HERE! (If you haven't already)

This is the 1984 album (named after a medicine used to induce vomiting) that got me into Zoogz, so it's a sentimental favorite. And I owe it all to the track "Sit Down And Shut Up," which was a bit of a hit on L.A. radio at the time, and a good place for neophytes to start.

We begin with the title track instrumental: a synth & vibes duet followed by some free-jazz guitar skronk that, amazingly, was sampled by rapper The Game. The
synth & vibes dueting continues on
"Sunday Brunch With Fuad Ramses," a song named for a character in the exploitation film classic "Blood Feast."
"Sit Down And Shut Up" is 8 minutes of
syn-drums, catchy tunes, some of Zoogz' finest singing, and a devastating parody of a frat-boy knucklehead encountering Zoogz & co. It's also a bit of an '80s time-capsule, with references to KROQ, the Club Lingerie, Pac-Man and numerous trendy bands of the time.

Followed by: dada spoken-word; a relaxing instro that becomes increasingly psychedelic; and then another fave, the 11-minute "I Was The Only Boy At The Teen Girls' Slumber Party." It's as juvenile as it's title, but the music, based on Eric Burdon & War's "Spill The Wine," is a stone-cold groove. Slide guitarist Scott Colby's dobro, and Indian tabla percussion add
some unexpected
colors to the mix.

Then: "No Use," an almost straight-ahead rocker, with typically pained whining vox; a Christmas carol that Johnny Mathis will

not

be recording; and finally a vein-popping Rift screaming
"
you fucked up
!"
over furious punk-jazz.

Phew!



Zoogz Rift "Ipecac"