Al

Duvall

is a contemporary New Yorker with the soul of an old time American snake-oil salesmen, a P.T. Barnum of
bad puns,
black humor and banjo

pickin

'. He's the Tom

Lehrer

of bluegrass, cheerfully singing surreal lyrics
unpredictably capable of

eliciting

gasps of astonished laughter
.

His thoroughly entertaining album "Coroner and Knives" came out a few years back and it's contents range from almost-punk energy levels (tho all instrumentation is acoustic) to bluesy dirges: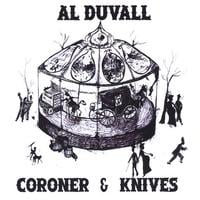 Al

Duvall

"William Knave"
Al

Duvall

"

Croaching

in the Thicket"

This comes to us courtesy of dualPlover records from Australia (famed for M4M fave Singing Sadie), a label run by a guy who crushes his face into a bloody mess with glass outfitted with contact mics. Good news! The Free Music Archive has some of Duvall's tuneage available. I especially like "Where The Comet Falls" from his "Recluses Unite" album.


s